From The Desk Of The Editor-In-Chief by BobbleheadBen
Welcome to our second newsletter. This one will be much less extensive than the previous one (mostly because I didn't post anything regarding the putting together of this one). In this economic depression, or is it a recession cause I honestly can't keep track with what they are calling it, the last thing people are wanting to do right now is spend money. That is exactly why I have decided to dedicate this mini version of the newsletter to just that.
The first items up have added appeal to me simply because along with being a fan of The Office there is my other love, Battlestar Galactica (or BSG). With the series finale being last Friday I decided to go on to the SciFi.com website and check out the items in their BSG store and I came across a couple of items that were being sold at the recent Comic-Con
"Comic-Con: Bears. Beets. Battlestar Galactica T-Shirt
Bears, beets and Battlestar Galactica. All of Dwight's favorite things - on a t-shirt! Now you and Dwight can be twins with the Comic-Con: Bears. Beets. Battlestar Galactica T-Shirt, the same shirt worn by the Comic-Con Dwight Bobblehead. Only for Comic-Con 2008. Get'em while they last!"
It can be found on the NBC Universal Store page for The Office or the SciFi Store page for Battlestar Galactica for $18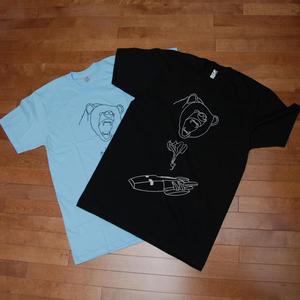 However I found another similarly themed t-shirt that until recently was sold out. Here is the picture.
It is now available for preorder at the website below the picture for $20. It mentions to check their sizing chart before placing an order as they are "a fashion cut brand" whatever the frak that means.
The only reason I came across this t-shirt was because of this recent new age MySpace called Twitter or as I like to call it Stalker. If you would like to follow/stalk Rainn Wilson the address is simply
www.twitter.com/rainnwilson
What is next? A site with listening devices that is named Bugger? Honestly.
The last Office/BSG item for sale is this Dwight Bobblehead which is on sale right now for $15.
This is one that you may want to act on sooner rather than later as these bobbleheads have a limited run of only 5,000.
Also if you have not gotten the original Dwight bobblehead it is available with the Bears, Beets, Battlestar Galactica bobblehead in a combo pack for $35.
On a couple non-Office related notes I just wanted to share a couple things I came across over the past couple of days. The first thing is Greg Grunberg from Heroes is currently trying to raise money for the Epilepsy Foundation and is auctioning off a 30 minute live video chat on eBay:
It isn't cheap, but I though I would pitch it out there since it is a good cause and Greg is a really cool guy.
The second is less serious and is for anyone who is or is not familiar with a musician by the name of Josh Freece. He has been a drummer over the years for bands such as A Perfect Circle, Nine Inch Nails, Devo, Guns N'Roses and the Vandals as well as working with other bands such as The Offspring, Lostprophets and Ween. Anyways he has come out with his second solo album entitle Since 1972. In order to promote it in a really cool and original way through his website
http://www.joshfreese.com/
he is offering several packages by which to purchase the album from a simple digital download to having him join your band for a month. Just for kicks go there and check out what is available even if you're not in to the music because some of the things included in the packages are highly entertaining. FYI: Quite a few of the tracks are explicit so be careful where you're looking at it, like not at school or around children ;)
I tried to expand it beyond the branch by passing along the info to the Cheyenne branch as well as posting on the DMI general forums so we'll see how it goes :) I hope you have enjoyed at least some of this short newsletter which actually looks more like a Twit (...Twitter it the devil of 09' lol).
Hopefully we can get back to the format of our first newsletter next time.